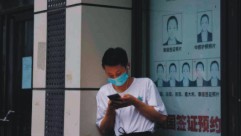 At a time when much of the world's media is battling a financial crisis, one inscrutable benefactor looms large. The irony, of course, is that this is the country that created the current crisis by being the originating point for Covid-19. But since China is neither short of money nor ambition, it is inclined at this point to leverage its very deep pockets to serve three different agendas. Few will be inclined to say, 'no, thank you'.
China began some years ago to use media outreach for its Belt and Road Initiative objectives, but add to that its need to control the narrative on Covid-19 and on Hong Kong and what you get then is a media empire builder, investor, manipulator and influencer all rolled into one. No part of the world is left untouched. In recent years, newspapers in the United States of America and the United Kingdom have been benefiting from the China Daily's paid content inserts; Australia has seen Chinese investments in its media outlets and considerable hosting of its more influential journalists; countries in Africa and Asia, India included, have been subjected to varying degrees of blandishments.
With BRI the focus remains on creating a media climate that will facilitate China's road, rail, sea and digital link projects unfurling across many nations. It is a gigantic initiative to invest in media companies across the world in BRI countries, sign contracts with them which give Chinese editors a foot in the door, launch new Chinese media networks with bureaus in many countries, employing journalists everywhere on good salaries. A major objective is to counter the media narrative on China's BRI put out by the US government, think-tanks and media, including allegations that the initiative is a debt trap for participating countries.
In June 2018, the State-affiliated All-China Journalists Association convened the Belt and Road Journalists Forum, drawing nearly 100 representatives from media and journalism associations in 47 countries. Subsequently a BRI News Network has been launched which seems to be pretty much a non-starter, judging from its website.
While India and the US have reservations about the BRI, 138 countries have signed up as partners for its myriad objectives since it rolled out in 2013. Thirty-eight nations in sub-Saharan Africa and 34 in Europe and Central Asia (including 18 countries of the EU) are part of the BRI. Another 25 BRI countries are in East Asia and the Pacific, and the rest in the Middle East and North Africa, Latin America and Caribbean, and in Southeast Asia. India is ringed by countries that have joined BRI projects: Sri Lanka, Pakistan, Bangladesh and Myanmar, with Afghanistan currently being wooed. Already 25-30 contracts with media companies in Afghanistan have been signed.
What has been described as 'Reshaping the World's Media' is periodically called out by free speech defenders headquartered in the West who document the assiduous efforts to influence media narratives on the BRI. It may make a difference to perception, or it may flounder as propaganda usually does. But it shows how far the Chinese government, flanked by Chinese companies building content dissemination platforms, is prepared to go to shape the narrative.
The markers of this project are growing investments in increasing Chinese State media's footprint, 'training' of international journalists in China, buying stake in media companies in countries across the world, and creating jobs for journalists with the expansion of China-owned media enterprises. This is accompanied by research at Chinese universities and think-tanks whose content makes you marvel at how much of an industry China's obsession with image management has become.
First, the level of investment. The extent of media criticism that accompanied Beijing's 2008 Olympics is assumed to have prompted China to spend USD 6.6 billion the following year on strengthening its global media presence. This figure has now climbed to 10 billion a year. A Freedom House report of March 2020 titled Beijing's Global Megaphone derives this figure from various sources. It quotes some known data points: China Daily's annual filings with the US government showed that the paper's spending in the US had increased ten-fold, from about $500,000 in the first half of 2009 to more than $5 million in the latter half of 2019.
When the China Daily's China Watch supplement is carried by several leading newspapers around the world, including The New York Times, The Wall Street Journal, The Washington Post and the UK Telegraph, it amounts to Beijing exploiting the financial vulnerabilities of the Western press to get them to carry pro-China content. Reports said The Daily Telegraph could have been paid as much as £750,000 (USD 984,185) annually to carry the China Watch insert once a month. Post Covid, the headlines in this supplement became overtly propagandist and the paper discontinued carrying it from April this year.
The Global Megaphone report said that in 2018, the Australian media reported that China Global Television Network was running a $500 million advertising campaign — with billboards featuring kangaroos and pandas — to attract cable viewers in that country.
While Twitter, YouTube and Instagram may be blocked in China, Chinese State media outlets spend a lot abroad acquiring followers. When the Hong Kong protests were at their peak, a Quartz report said that China was spending over $1 million to buy influence on foreign social media to turn public opinion against protesters. Money is also invested in acquiring followers for CGTN's foreign language feeds across the globe: French, Spanish, Arabic, Russian. As of December 2019, CGTN's English account had 90 million followers — the largest for any media outlet on Facebook.
All this attempted opinion-shaping is accompanied by assiduous media research. A study such as "How the U.S. Media Perceives and Communicates Chinese Railway Projects in the Belt and Road Initiative" by The China Africa Project measures and grades the reporting in a range of US media outlets. Other research, including that in Peking University's School of International Studies, has analysed international narratives of Chinese debt.
Meanwhile free speech researchers report the ways in which the tenor of the Hong Kong coverage shifts after the ownership of media houses changes to private sector Chinese ownership — such as the acquisition of the South China Morning Post by the Alibaba Group in 2015.
The International Federation of Journalists surveyed its unions across the world to map ways in which China had wooed them. Of the 29 countries that participated in training programmes for journalists, 26 were chosen from BRI countries. There were specific tours for Islamic journalists to counter propaganda about the treatment of Uighurs within China. The unions surveyed reported the emergence of lots of Chinese-funded media outlets. A radio station in Myanmar funded film festivals along gas pipelines!
China does not discriminate between developed and developing countries, the survey found. The unions reported that Europe had the highest regional concentration of Chinese owned or joint media ventures. The bottom line, then, is money to finance media ventures and new platforms for China to control.
The question though is with all that investment, is the world now buying the China story that President Xi Jinping wants his media outreach to tell?
(The author is a media commentator and was the founder-editor of TheHoot.org ) CTC- The Telegraph- Link is given bellow-
https://www.telegraphindia.com/opinion/china-media-outreach/cid/1787432